Forwarding / transportation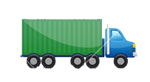 (Prioritnou) The main business focus of our company is organization of road transportation in within the whole Europe. The benefits of our location in middle of Europe and rich experiences designate us to specialize on transportations on Central European market (Slovakia, Czech Republic, Poland, Hungry and Austria) where we provide services of export and import of goods to and from Italy.
Although the core operations are provided in the whole area of Italy and Central Europe we also operate in other locations so we are prepare to provide our services of transportation within countries such as Germany, Spain, Portugal, France, Sweden, Great Britain, Greece, Netherlands, Latvia, Lithuania, Ukraine, Russia and many others.
Different requirements of our customers reflect their needs with transport of special transportations in any occasions. Every request of transportation is carefully evaluated so we can provide the best service. On occasions where there is need to provide transportation without any delays we provide express delivers with smaller trucks up to 3,5 up to 7,5 tons. Were there is a need for delivery of goods with extensive measures we are able to provide transportation with long vehicle trucks up to 120 cubic meters. We also provide small delivers of goods, where they can be carried with other goods on vehicles which have the same destination so this can help us save cost of the transport for our customers. With all our transports we provide our services with highest quality for the best price.
We are also prepared to provide transport services of special requirements for dangerous goods (ADR) and goods that need to be cooled or frozen. We provide our services also for transportation of working mechanisms with complicated requirements of loadings and even transports provided by ferry to islands within Europe.
Our main destinations::
Types of transportations::
Vehicles:

Italy
Slovakia
Czech Republic
Poland
Hungary
Austria
other EU states

Express transport
Partial transport
Collection transport
Whole truck transport

Lorry
Small trucks up to 7,5 t
Full size trucks
Trucks with freezers
Trucks with size from 100 cbm to 120 cbm
Storage services

We offer for our customers storage and handling services of transported goods which need to be transfer to different types of vehicles. These services help us to provide transportations with smaller vehicles mostly to city centers and other places with limited access. Our storage facilities can be used to provide short time storage of goods in any occasions.